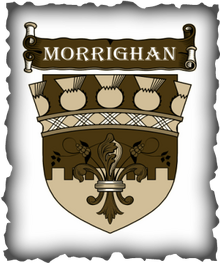 Overview
Edit
Morrighan is a kingdom of plenty. Its inhabitants believe they are the Chosen of The Remnant - favored by the gods after The Devastation, led by the girl Morrighan through the destruction to a place of safety.
Etymology
Edit
While the Kingdom of Morrighan is named for its first Queen, Morrighan, is it also believed to be derived from modern-day Oregon.
Geography
Edit
Described as a land of endless hills (see Easter Eggs), many ancient ruins pepper the landscape.
Golgata
Morrighan Vineyards
Civica
Terravin
Piadro
Politics
Edit
Government
Edit
Timekeeper
Lord Viceregent
Chancellor
Royal Scholar
Foreign Relations
Edit
History of tensions with Dalbreck, hoped to be alleviated through marriage with the Crown Prince
Military
Edit
Believes its military superior to all other nations.
Morrighan is famous for both the quality and price of its wine.
Religion
Edit
Considers themselves the Chosen Remnant that found favor in the sight of the Gods, who led Morrighan, their first Queen, to safety after The Devastation.
Polytheistic, though the gods themselves are not named individual deities, but concepts.
First Daughters are revered as potential Siarrahs -those with the sight.
Extreme focus on history, albeit whitewashed.
Artisans - elaborate wedding kavahs are applied to noblewomen on their marriages.
Wine - the Morrighan Vineyards are renowned for their quality, giving the country its symbol - the vine.
Community content is available under
CC-BY-SA
unless otherwise noted.